important DecodeME update #3 …
decodeME are doing a series of information posts in the lead up to the start of the DecodeME study. They are encouraging us to share them as much as we can.
Therefore, I will share them each time they are posted …. exactly as they are originally written by,
DecodeMe …
 fragmented.ME xXx
---
Blog article to follow is Copyright © DecodeME (2021).
Updated December 2021. From https://decodeme.org.uk 
Update: 

Behind-the-scenes: what we're doing [December 2021]

The DecodeME launch is just weeks away! We're busy behind-the-scenes getting the world's largest genetic study of ME/CFS ready for people like you to take part.

With over 28,000 people from all over the UK waiting for their invite, we're working hard to make sure this large science study runs smoothly. Here are some of the tasks we're working on: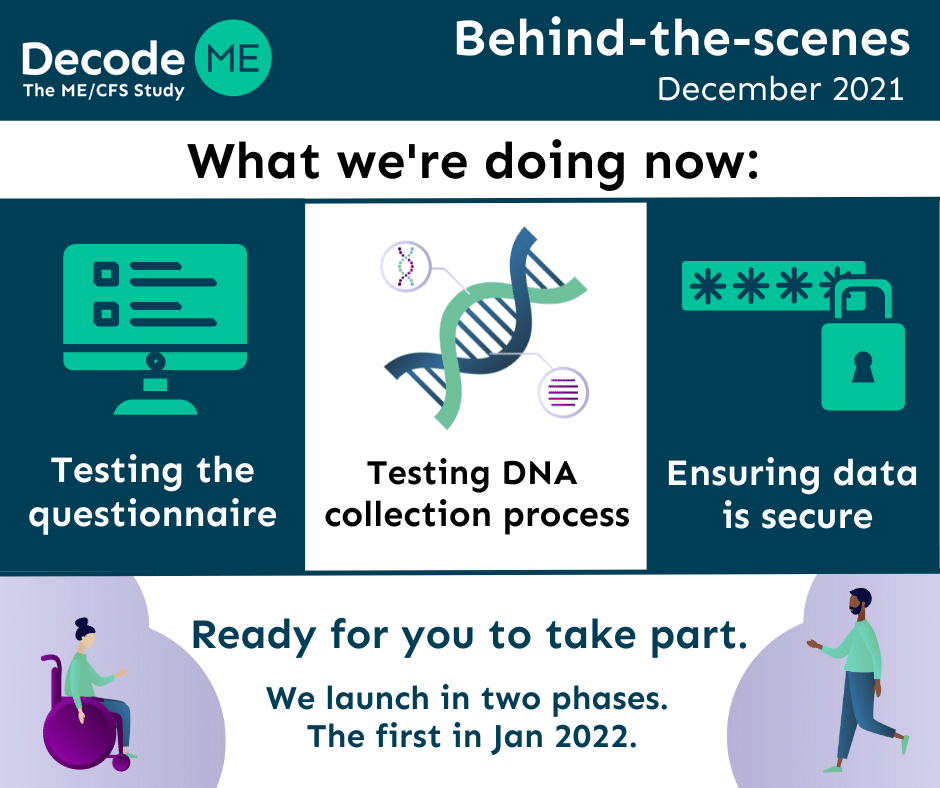 1. Testing the questionnaire process: 
The first stage of the DecodeME study is a questionnaire. We're making sure our online questionnaire is straightforward to understand and complete. We're also providing support and other ways to completethe questionnaire for people whose ME/CFS severely affects them and may find the online process challenging.
2. Testing the DNA collection process: 
If eligible for part two of the study, we'll post you a 'spit kit'. We will ask you to provide your saliva using this kit (so we can collect your DNA to study). This can be posted back to us from any postbox for free. We're testing the kits to make sure they're simple to use and post. We're also checking that the saliva samples remain in good condition throughout their journey so DNA can be extracted from them.
3. Making sure your data is secure:
We're getting everything set up so we can process the information we collect securely and efficiently. We're making sure our systems are ready to handle a large amount of data from many thousands of participants. By carrying out rigorous testing now we'll minimise the chances of technical hiccups, making the process as smooth and secure as possible.
Thank you for your patience and support while we make sure everything is ready for DecodeME's launch. We're excited to be completing these final steps, and we're looking forward to inviting you to take part.
Recruitment launches in the new year in two stages, starting in January.
First, we need to find 20,000 people to take part. If you would like to be one of them, please sign up and you can be first in line when we start recruiting in the autumn.
 © decodeME